Plux Wireless Charging Stand
$79.00
$119.00
saving
$40.00
Simultaneously charge your iPhone, Apple Watch & AirPods

Adopted Qi wireless technology

Quick-charging speed with up to 10W of power

Enjoy Face ID and Nightstand Mode

Charge with your phone case on

Overcharge prevention

Apple Watch Charger Excluded

Items included: Plux Wireless Charging Pad / Type-C Cable / Stand Converter / AirPods Wireless Receiver / AirPods Holder
Simultaneously charge your iPhone, Apple Watch & AirPods

Adopted Qi wireless technology

Quick-charging speed with up to 10W of power

Enjoy Face ID and Nightstand Mode

Charge with your phone case on

Overcharge prevention

Apple Watch Charger Excluded

Items included: Plux Wireless Charging Pad / Type-C Cable / Stand Converter / AirPods Wireless Receiver / AirPods Holder
FREE DELIVERY WITHIN THE US

Most people own multiple electronic devices, like iPhone 8/X, Apple Watch, and AirPods, and they all need different chargers and cables. Now, Apple users can switch to wireless chargers. With Plux and its Qi compatibility, you can charge your new iPhone, AirPods, and Apple Watch wirelessly and quickly.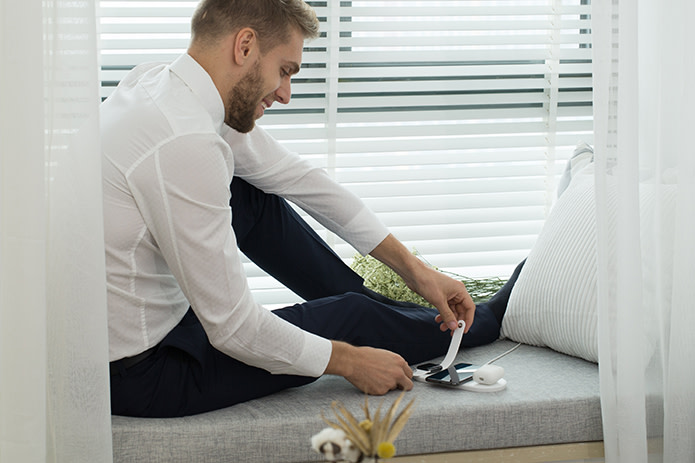 Plux allows you to truly embrace the convenience of wireless charging. It works as a pad or a stand so you can still use your phone at any angle. With an output of 10W, it saves you tons of time and money.
Plux Is Featured In: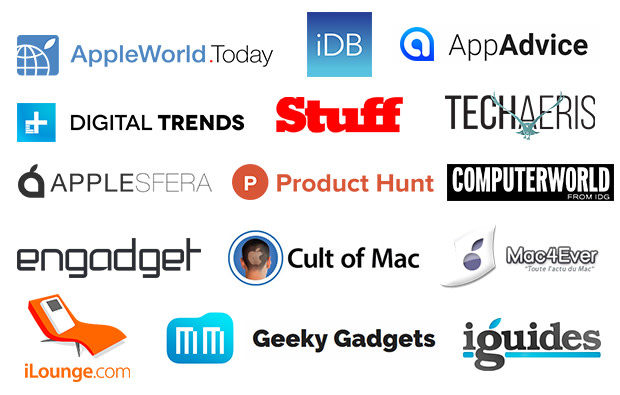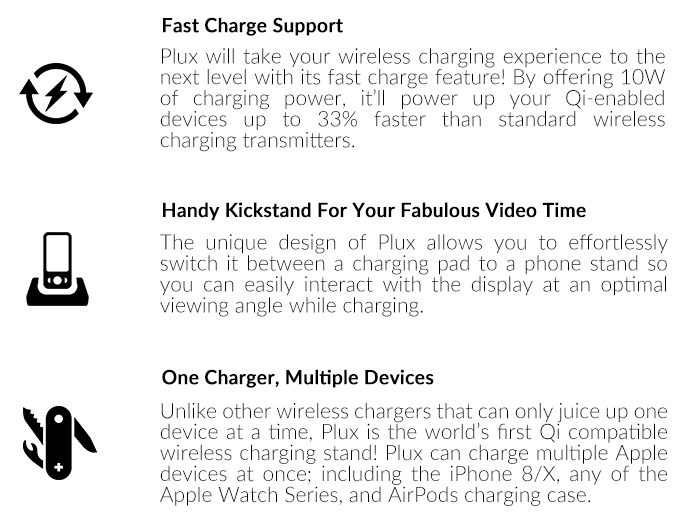 Charge Three Devices At Once
Plux is the world's best wireless fast charging stand. It's specifically designed to power up all of your devices easily in one convenient place! Just simply place all your devices on the charger. Now you can leave the mountain of cables and chargers at home and charge your devices all in one.
Support 10W Fast Charging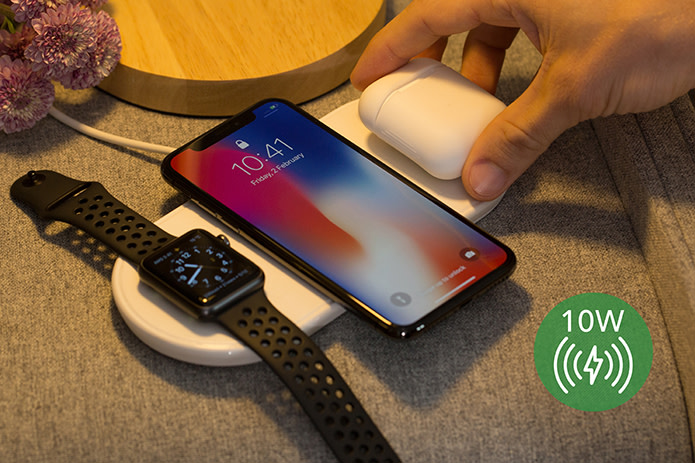 Using fast charge technology, Plux can deliver up to 10 watts of power to all your iPhone 8/X, Apple watch, and AirPods. It's a convenient, safe, and reliable way to charge and power all your electrical devices 33% faster than the standard wireless chargers.
Wireless Charging Pad And Stand In One
With the Stand Converter that comes with Plux, easily transform your charging pad into a charging stand, you don't have to worry about the battery life when binge-watching or listening!
See More, Hold Less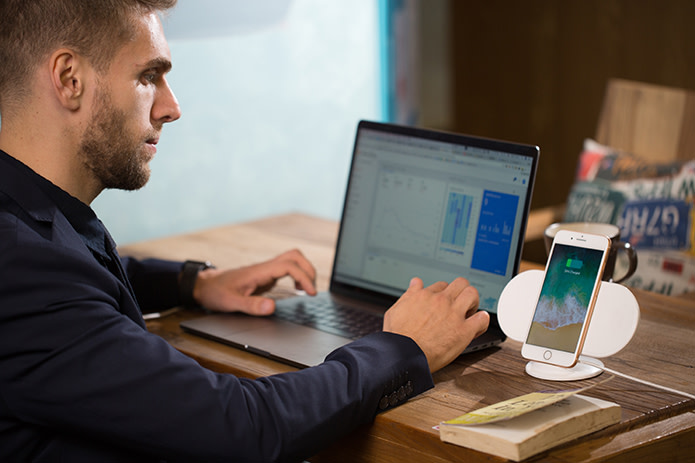 Whether you're texting, calling, or watching your favorite shows, don't let your wireless charger restrict your mobility! We've designed Plux to be an aesthetically pleasing and a highly usable stand that holds your phone up under a viewer-friendly angle. It has the best angle for your Face ID and Nightstand Mode! You can still get notifications, messages, calls or binge-watch with comfort.
Work With Phone Case
No one wants the hassle of having to remove their beautiful phone case while using a wireless charger. With Plux, you'll have no issue charging the phone while it's secured in its case; as long as it's not thicker than 3mm. 
Premium Device With Added Protections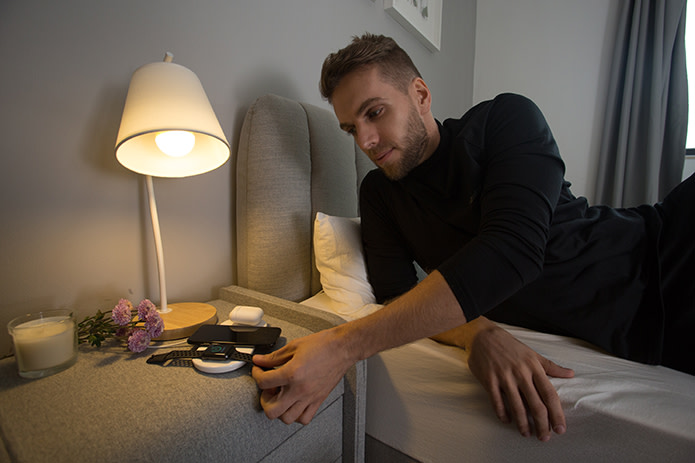 When enjoying the safe and convenient wireless charging, Plux also provides intelligent safeguards to prevent overheating and overcharging.
Specification
Name: Plux
Color: White/Black
Input: 5V/3A 9V/2A
Maximum Output: 10W
iPhone Output: 5V/1.5A
Airpods Output: 5V/1A
Apple Watch Output: 5V/500mA
Charging Interface: USB-C
Dimension: 190mm*82mm*12mm
Stand Size: 90mm*76mm
Material: PC/ABS
Wireless Charging Standard: Qi(WPC)
Quick-charging speed with up to 10W of power
Compatibility: iPhone X/8Plus/8 and other Qi-enabled devices
In The Box:
Wireless Charger Pad*1
Base*1
AirPods Mount*1
Stand*1
Plastic Ring*1
3M Rubber Pad*1
AirPods Wireless Receiver*1
Silicon Case*1
Charging Cable*1
Manual*1