The Rymek mechanical Bluetooth keyboard by KnewKey is designed with inspiration from typewriters in the 50s. Attributed to its stunning retro design, the keyboard exceeded its initial crowdfunding target on Indiegogo by more than 500 percent; after all, the true beauty of Rymek is not its aesthete appeal, but the coexistence of aesthetics and functionality.


Rymek comes with unique saddle-shape keycaps, with Cherry/Gateron switches, a modern switch that emulates the typewriter clicky feel plus excellent response. The keyboard supports Windows, Mac OS, Android, and iOS, it works flawlessly on most devices. The keyboard features dual mode (Bluetooth/USB wired) and single mode (Bluetooth), users can easily swap between USB wired and Bluetooth with the carriage return bar on the left.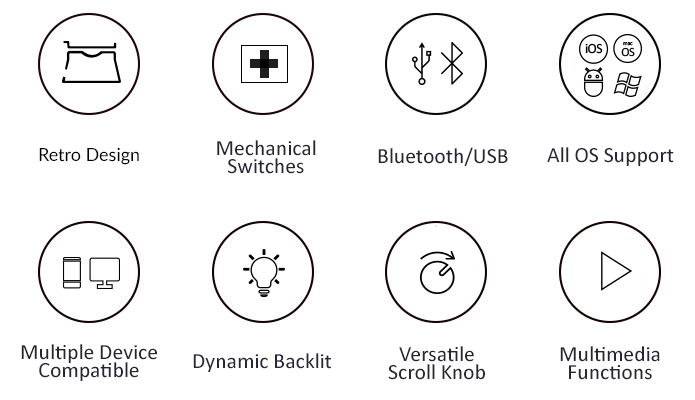 Rymek features a 2,000mAh lithium battery that will last for 50 hours on a single charge. Unlike the majority of a mechanical keyboard, Rymek has an array of bright LED produces dynamic effects, it makes perfect sense that Mac sources give it a rating of 9.7/10. 



Let's take a look at the overwhelmingly positive reviews:
"

Every so often Gadget Guy gets a device that brings squeals of delight and envy. The Rymek is just that. Everyone who has seen it wants it.

'

By Gadget Guy
"This is a decent mechanical keyboard, and having Bluetooth available on the same keyboard is excellent, but what you are really paying extra for here is the typewriter look and feel with the flashy lights. The Cherry Blue switches under those caps work quite well, delivering quality response while typing while also being slightly quieter than most other Cherry switches." By Android Central
"Most keyboards with backlighting embed the light within the key itself. The Rymek, however, treads a different path and has an array of bright LEDs positioned above each key switch. This produces a nice silhouette effect which looks absolutely gorgeous while ensuring each key is easy to discern during night-time conditions." By TNW
"This Retro-Inspired Mechanical Keyboard Will Make you Love Typing again….the Rymek Retro Bluetooth Mechanical Keyboard combines beautiful retro detail with cutting-edge technology." By Interesting Engineering

"The ideal mechanical keyboard for an 'old soul'.This is a very special keyboard. I don't think that everyone who wants a mechanical keyboard will appreciate the uniqueness of this device but if you like the retro style of the Rymek, then it will suit you just fine. The keyboard is wonderful to type on and it looks great. I truly love this keyboard and I would say this was a perfect keyboard for me." By Mac Source



"Upon opening the box we immediately fell in love with it. See, sometimes you find the tech that looks great in photos and on paper only to learn in person that it's not all that awesome. That's not the case here. In the real world, this thing looks, and feels, incredible." By Android guy